Waist Trainer Belt - Intelligent EMS Trainer Belt 6 Modes
Original price
$ 69.99
-
Original price
$ 69.99
Waist Trainer Belt - Waist Trimmer - Waist Trimmer Belt
Do you feel like your stomach size is too big? Are you troubled by the sudden fatness on your stomach? The EMS wireless vibration abdominal trainer can beat your belly fat and make you healthier every day. Do you want to try? are you ready for the best waist trimmer belt?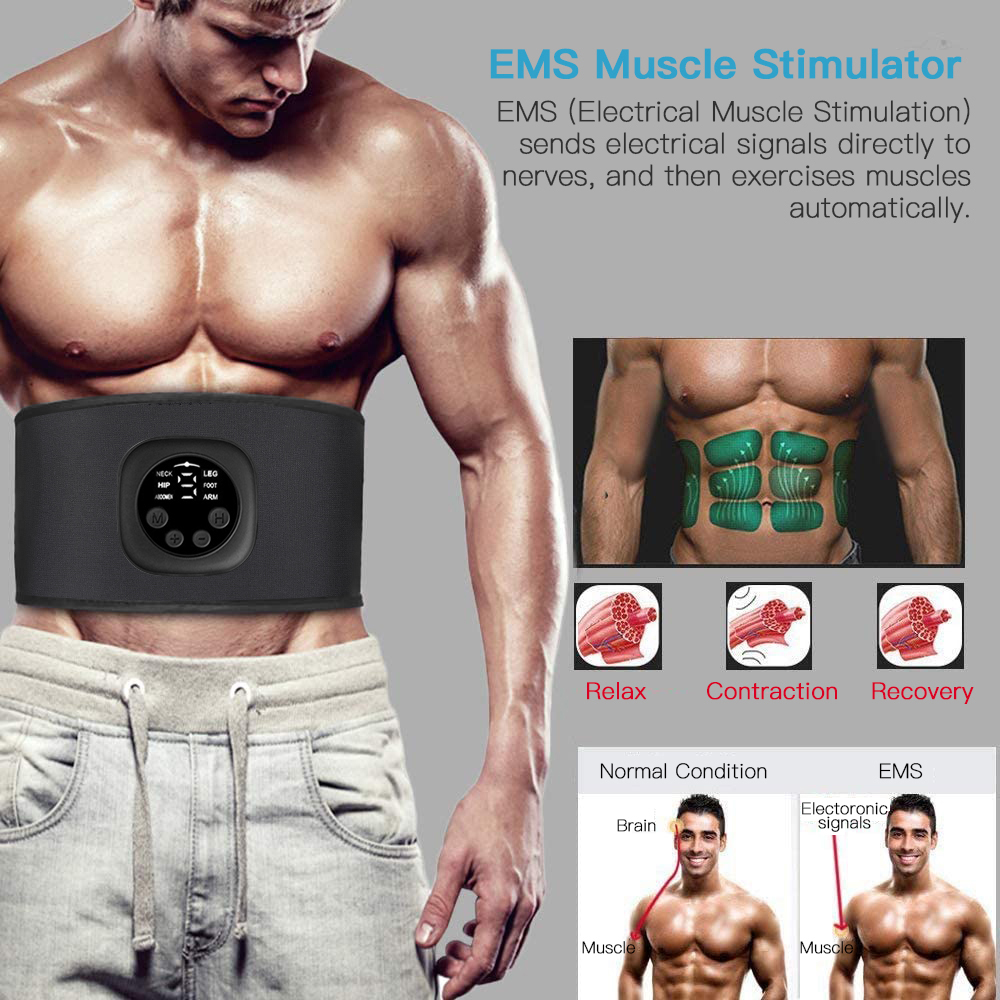 This is the Abdominal Trainer Belt that you want. I'll get all Techy on you, OK? First, let me tell you about the 6 modes and 9 intensity levels. Then there is the LCD screen so that you know exactly what level of intensity you are at with each mode. Our Waist trimmer for women has USB rechargeable, not battery operated, so no more having to replace batteries! Oh I almost forgot, if you have a really thick waist, we've got an extension strap just for that. We've got a lot of other features but it's getting Techy in here, so go ahead and check them out.
The Intelligent EMS Wireless Abdominal Trainer Belt 6 Modes Weight Loss Body Fitness is perfect for fitness enthusiasts who want to gain a six pack with minimal effort. this waist trimmer for men may even help you form a habit through its vibration waves. So if you're looking for the easiest way to get rock hard abs, try this out today!
Features:
Intensive Training: The EMS abdominal belt can contract muscles by applying electrical stimulation to the motor nerves related to the muscles of the training site. It's 1~100Hz to concentrate the muscles. Ideal for health and life.
LCD Display Controller: The product has 6 modes and 9 intensity levels. The mode and intensity are displayed on the LCD screen, you can check the working condition (pattern type, pace intensity), and enjoy training more safely and clearly.
Functions and Effects: Exercise for 15 minutes is equivalent to jogging for 2500m, and swimming for 30 minutes freely. Just stick it on your abdomen to form a habit through vibration waves. You can also train internal muscles that you won't normally train. The vibration moves the muscles around the abdomen and trains naturally. The meat around the stomach will fall unconsciously.
USB rechargeable: Built-in rechargeable battery that doesn't require battery replacement, can be used 36 times after fully charged. It also eliminates the need to replace consumable gel sheets, which can be used after wiping the conductive pad with water, more economical.
Extension Strap:An extension strap is also attached, so even people with thick waists can use it with confidence.
Specifications:
Arm, Back, Foot, Wrist, Abdominal

Type: 

Muscle Stimulator

Brand: 

Unbranded

Timing: 

15 Minutes

Modes: 

6 Modes and 9 Intensity Levels

Display: 

LCD Digital

Item Weight: 

0.6LB

Item Width: 

8.7 in

Item Length: 

10.6 in
Package Included:

1x EMS Abdominal Belt
1x User Manual