Professional Astronomical Telescope HD Night Vision With Tripod
Original price
$ 119.99
-
Original price
$ 119.99
Professional Astronomical Telescope HD Night Vision With Tripod
Get the Best Telescope. This Beginner Astronomical Telescope Night Vision For HD Viewing Space Star Moon USA, you can view more clearly the sky's surface. It is new designed with top quality optics to give you the best clarity while taking pictures of the Moon, planets, and Moon. Moon rover can drive on the moon without human hand control. 
Experience a whole new level of fun and learning with a Beginner Astronomical Telescope! This Beginner telescope is all you need to view the stars, planets, moon and other celestial objects. Besides this telescope can make a great gift for your kids age 5 years old and up for educational purpose.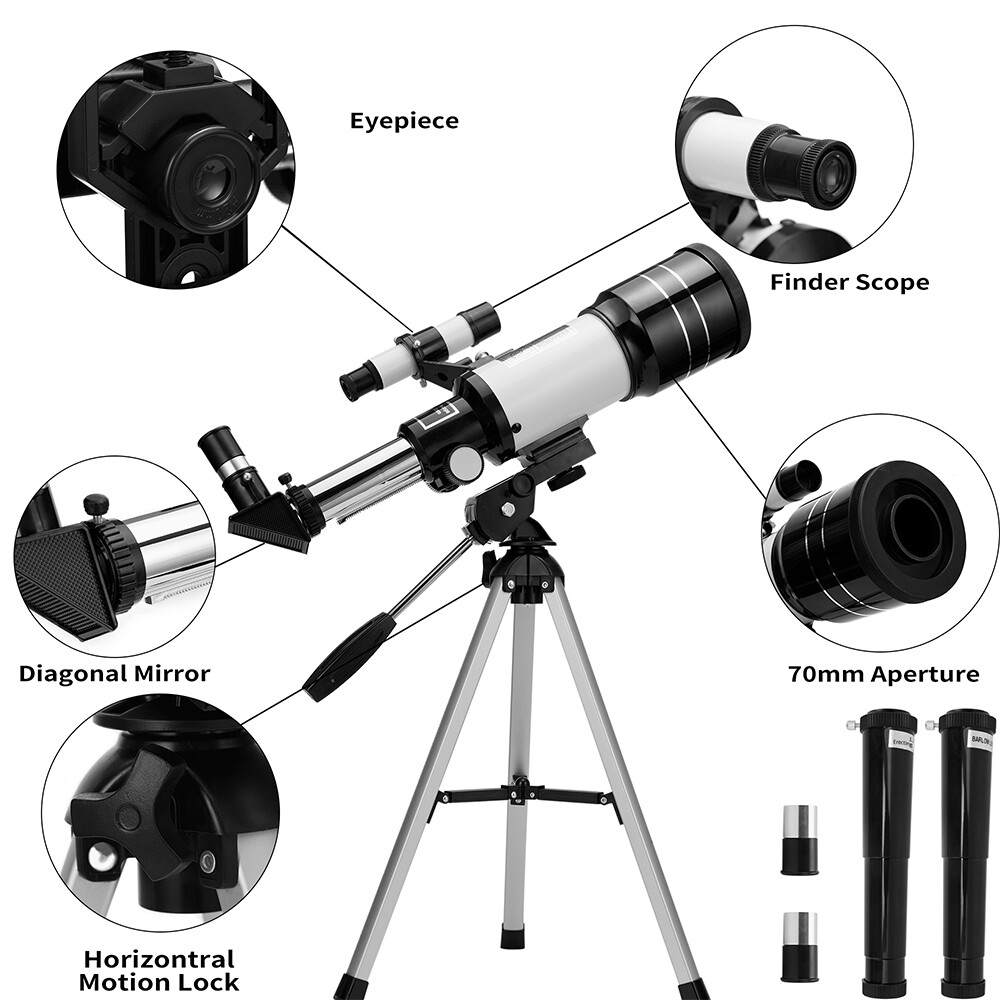 Get a telescope that allows you to gaze in space with extremely sharp images, an optical glass globe, and accurate globe tracking. This beginner telescope has 470mm aperture and 300mm focal length, the optical eyepiece will project clear images of the sky.
The HD Astronomical Telescope Night Vision HD Camera with Tripod makes it easy to capture crisp, high-quality photos and videos of the moon, planets, and night sky. It has a low power consumption LED light source that extends battery life. The camera is equipped with a f/4.5mm diameter lens that comes with an adapter to fit all standard 1/4″ camera screw posts. It allows you to view distant objects in fine detail and focus up to 30′ away.
Features:
The best Telescope for Kids & Beginners, this telescope meets all the needs of beginners, and the kids' astronomical journey begins from here! Equipped with 3X Barlow lens and two eyepieces, H20mm and H6mm, kids can get magnification of 15X to 150X. Whether it's watching stars and moons at night or observing planets, telescope is the best helper for kids & astronomy beginners.
Large Aperture : 70mm aperture and 300mm focal length provide more lights and clearer images, even beginners can get clear images. The bigger the aperture, the bigger the field of vision, and the clearer the image.
Easy to assemble& dismount:  We have a full set of paper and video Installation Guidelines. Don't worry about any installation problems. Even for first-time users, kids&beginners can install it themselves without any tools.
Specifications
Size: 30 x 14 x 14cm, 11.81x5.51x5.51inches.

Refractive astronomical telescope with 70mm aperture and 300mm focal length.

Product color: silver + black

Material: aluminum alloy

Product size: about 40*20*8cm

Magnification: 150X

 Optical system: refraction system
Package Included:

1xtripod
1xTelescope(Not including cell phone)

1* Primary tube lens,

1*Tripod,

1*Mobile phone holder,

1*Star finder,

1*90° zenith mirror,

1*3X extender, 1*1.5X extender,

1*H6mm eyepiece (50 times magnification),

1*H20mm eyepiece (15 times magnification),

1*adjustment lever,

1*Filter (used to observe the moon)